ContrôlePus v2,0


by Jean-Yves Proux
last update 24-May-2005

Freeware for MacOS X >= 10.2 (works on 10.3 and 10.4)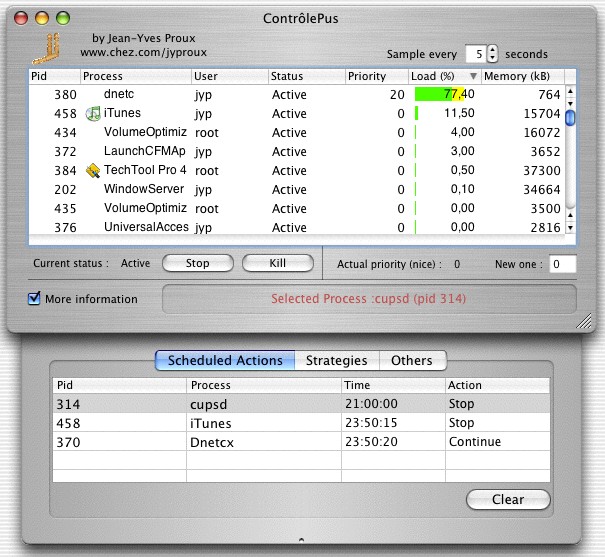 This tool helps you to
see processor load and cpu usage for each process,
stop or continue what ever process on your Mac (and this at the time you want),
quit or kill a process,
change its priority,
search processes launched by a given process.
To download the latest version, please click here
---
If you have problem with version 2.0, you can download version 1.5 here
---
This programme is freeware, you can use it freely. Use the software at your own risk.

History

24-may-2005 Version 2,0

You can now choose the time to stop or continue a process.

A detailled documentation is now delivered.

A lot of changes in interface in order to use only small system fonts. The window is now textured.

A drawer window now shows other informations (Scheduled Actions, Strategies...).

Returning from Hided status, ContrôlePus refresh immediatly the process table. This avoid to display an old status of your computer's processes.

The Time Spent column is added. You can see the CPU time spent by each process there.

Cocoa applications are now prefixed by their icons.

Big works done on sources : I created a lot of new classes.
17-November-2003 Version 1,5

The tools lets the user choose which informations he wants to be chown with the Columns menu. Choices are saved for the next start.
The Group column appears, it stands for the identifier of parent process. When sorting on this columns, ContrôlePus enables you to see processes started by the same parent (and the indentifier of this parent).
A new Memory column appears which displays the memory usage in kilo-Bytes. Some users do prefer the representation instead of percentage.
Refreshing of processes is not made when ContrôlePus is hidden, in order to save CPU cycles. So you can let ContrôlePus hidden, it will be quickly usable with no CPU usage.
Coordinates and size of the main window are now automaticaly saved.
Zombie processes (dead but even presents in the system) are now displayed as zombie. No operation is allowed on them.
Search for updates can now be made directly from the application's menu.
For 3 users, the bottom of percent values in CPU and Memory Load cells were truncated (Thanx goes to John Hughes for his numerous tests).
The tools used to loose about 4kB on each processes refresh. Corrected.
The CVS header on each source were modified in order to be user viewable with the ident command.
ContrôlePus version is now well displayed by the Finder.
10-October-2003 Version 1,4

Percent values are know in Load and Memory cells.
Correction of a bug leading to a crash after 40 minutes to 2 hours of use. Thanks goes to Nucléus (MacBidouille forum for his help in debuging, and to John Hughes for his tests.
You can now bypass your right to terminate or kill a process (if you are administrator or have name and password of an administrator).
You can choose automatic refresh delay between 1 (instead of 0) and 59 seconds.
The user can choose priority between -20 and 20 (between 0 and 20 before this version).
Multi-processors machines are now supported (with a turn around to an Apple bug), thanks to Johann Cardon for his help.
30-September-2003 Version 1.3

You are now able to quit (SIGTERM) or kill violently (SIGKILL) a process.

The local menu is replaced with a large array to display current processes. You can sort them by pid, name, priority, status and CPU load, memory usage.

Automatic refresh is added, and its frequency is user-definable.

Alert windows are now modal.

Now displays CPU and memory usage for each process.

The german localisation is now ready, thanx to Peter J. Hartmann.

The spanish localisation too, thanx to Isabel Biermé.
7-August-2003 Version 1.2

The stop action on ContrôlePus itself disabled.
Multi-languages functionality added.
English localisation added.
6-August-2003 Version 1.1

10-July-2003 Version 0.1

Initial version, can only act on stop/continue (no priority).
French only version.